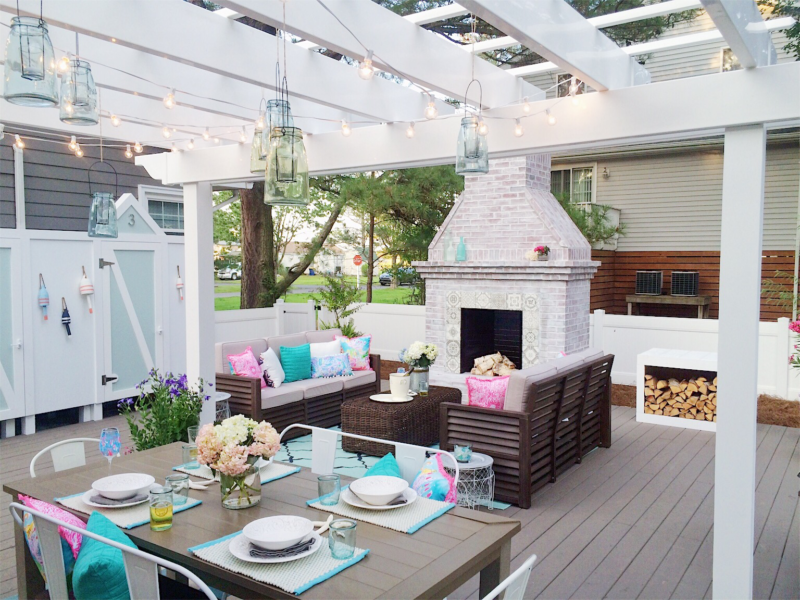 Season 1: Episode 4
Flood-Ridden to Fabulous
One of my favorite things about living at the beach is the truly outdoor lifestyle that it encourages and embodies. From the earliest hint of warmth in the spring to the last ray of sunshine in the fall, coastal dwellers live life al fresco. We live, play, work, sleep, eat, and breathe the sand, sun, and salt air that living near the ocean affords us. That's why when it comes to beach homes, the outside is just as important as the inside. Unfortunately for Tom and Kim, the homeowners in Big Beach Builds episode 4, their life outdoors was a wash – literally.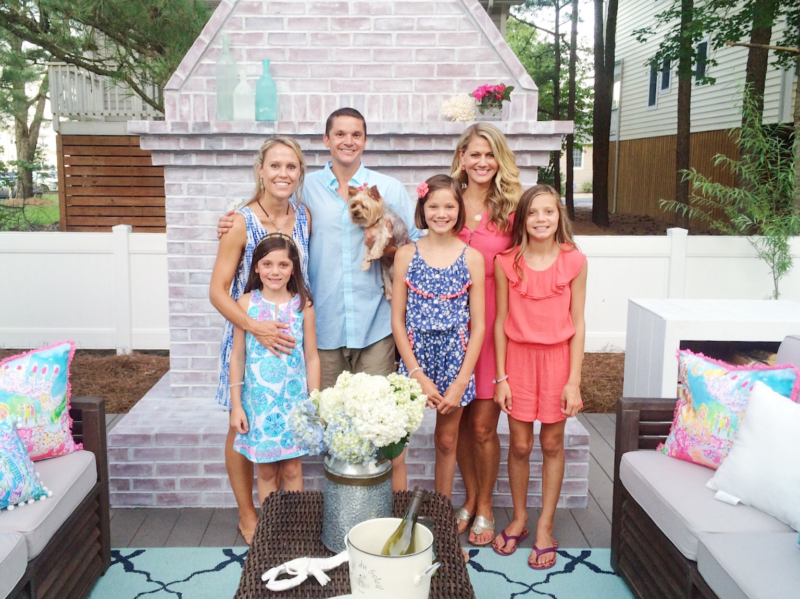 Living at sea level has a few perils that come with all the perks – and one of them is flooding. During bad rainstorms, Tom and Kim's backyard would often flood, leaving the entire area virtually useless. The couple avoided putting too much work into the yard, for fear that it would get ruined by the water. And even after the water receded, they were left with a muddy mess. Luckily, as a custom home builder at the beach, flood-proofing is one of my specialties. It was finally time to turn this impractical space into the stunning backyard beach retreat that Kim and Tom always dreamed of.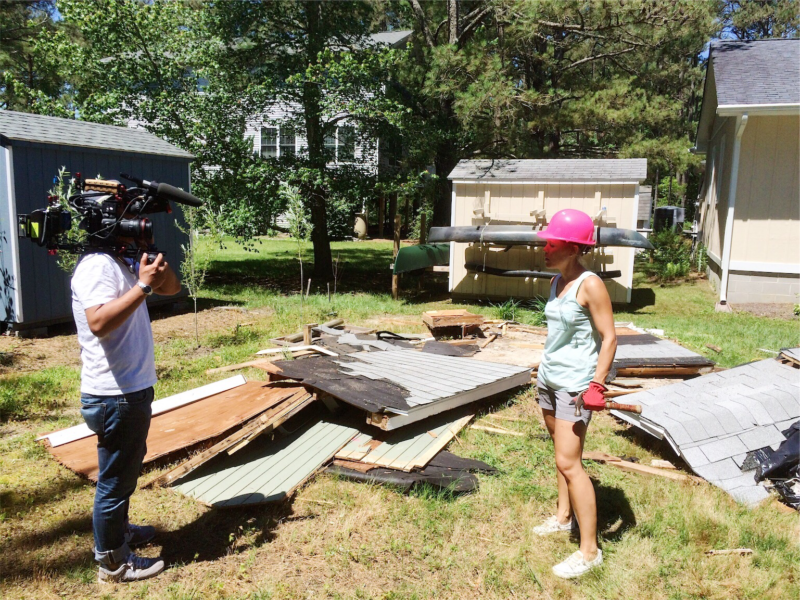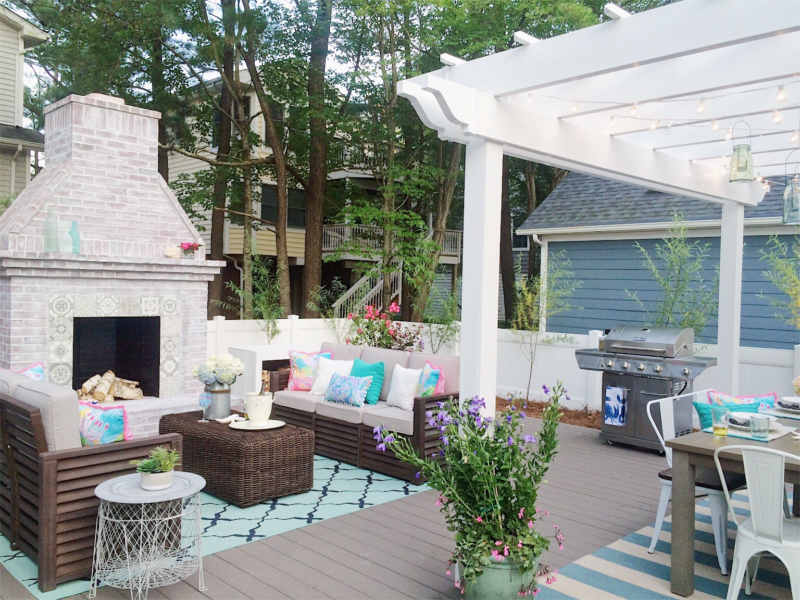 FLOOD-PROOFING
Problem: Constant flooding during storms made Kim and Tom's backyard unusable and unpleasant. Even when it wasn't raining, the ground was often muddy, wet, and unappealing.
Solution: Often times at the beach, grass is just not a practical application – especially in a location so close to the water like this home. I decided to give Kim and Tom a low-maintenance, highly usable backyard space by installing boardwalk-style decking over almost the entire yard (edged with some grass, mulching, and resilient landscaping). The deck raised the level of the yard by about five inches, and would also dry quickly and mess-free after rain. We also added a bed of gravel underneath the decking to protect the foundation and encourage water to flow away from the home. I finished it off with weather-proof furniture and accessories as well as a fence to give Tom and Kim a private, worry-free space (and keep their dog safely inside the yard!).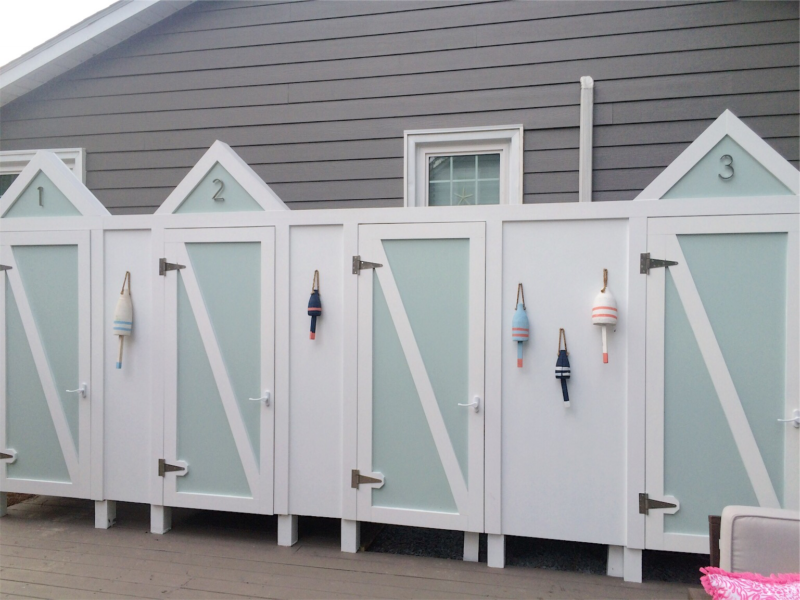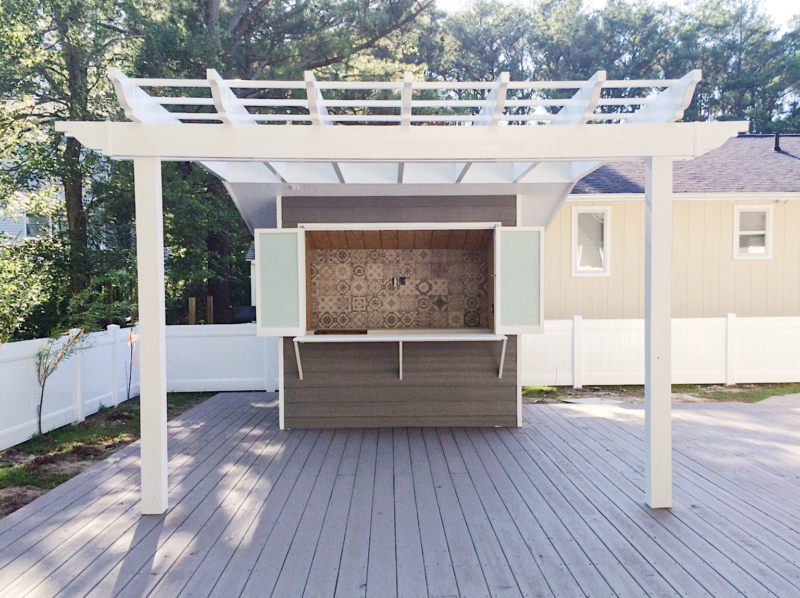 STORAGE & UTILITIES
Problem: Beach life is often an active life, and that was certainly the case with Kim and Tom. Their  family needed a place to store their paddle boards, beach chairs, and other summer gear when it wasn't in use. However, their current shed was far too small and not very functional. They also wanted to find a way to hide their A/C unit, which was out in the open right against the back of the home. Lastly, while Tom loved the idea of their outdoor shower, the stall was made of flimsy plywood and was dark and dingy. In fact, it was so unappealing that Kim had never taken a shower outside (virtually a crime at the beach!).
Solution: We built a structure for Kim and Tom that would serve double duty – both as a storage shed and a kitchen/service bar (more on that later). The storage end of this structure faced the back of the yard so as to be out of sight when the couple was using the yard for entertaining or relaxing. We created custom slots for the large paddle boards and extended the shed's roofline to protect them from the elements. To address the A/C unit, I designed a large row of stalls inspired by boardwalk cabanas. One stall housed the new, light, and bright shower that the family could use after a day in the sand. Two other stalls provided storage space for beach chairs and other summer items. The middle space was decorated with buoys and cleverly disguised the A/C unit.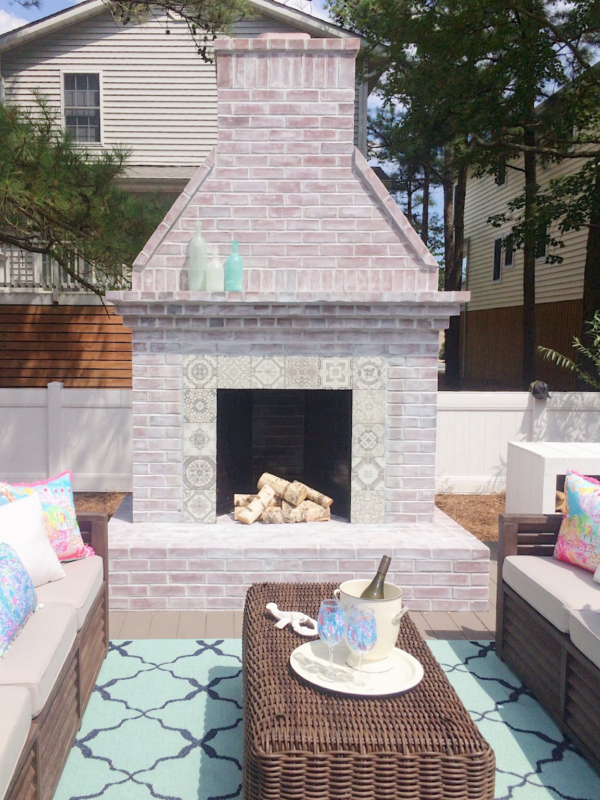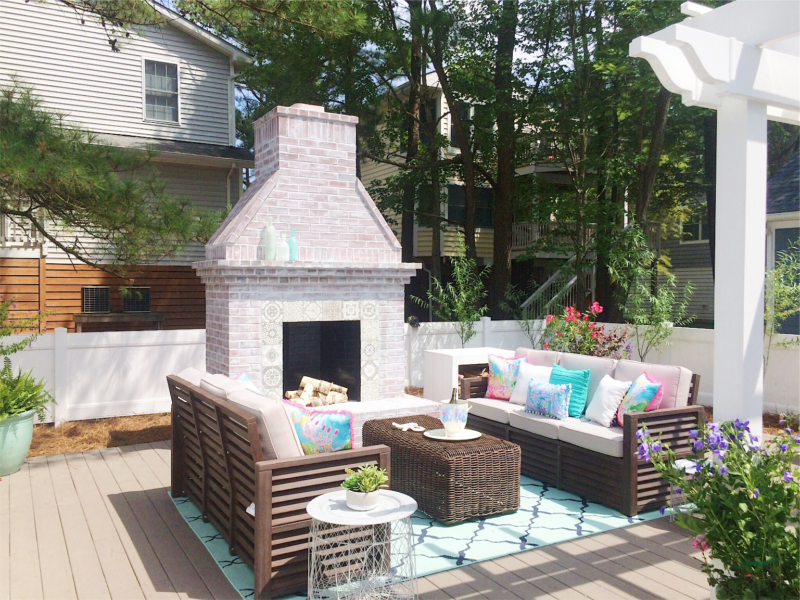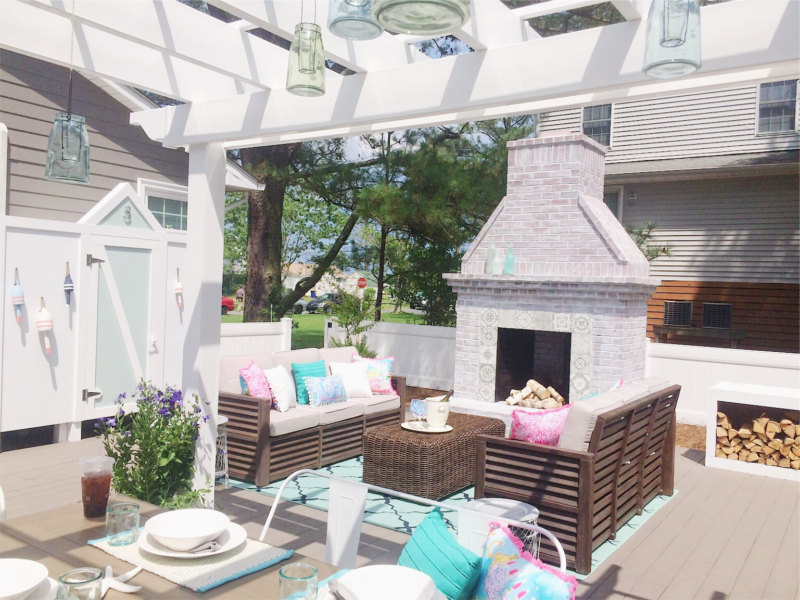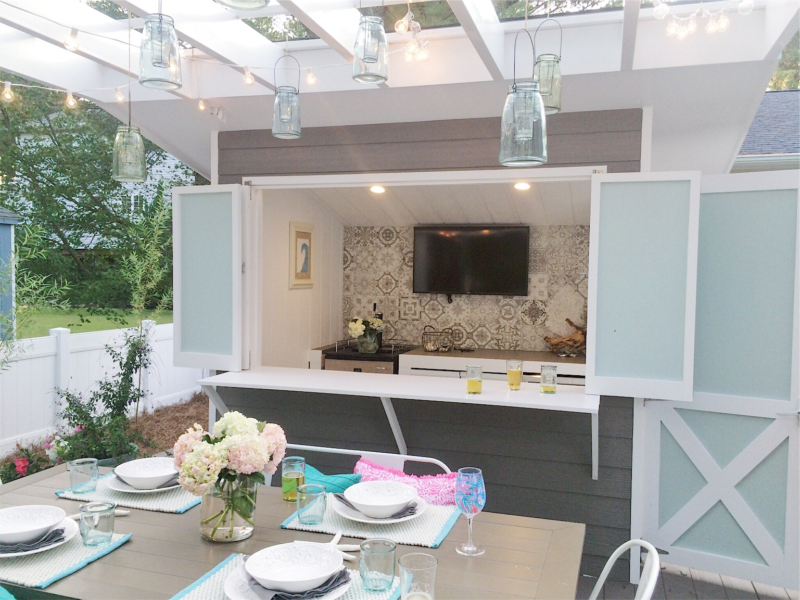 OUTDOOR ENTERTAINING
Problem: Kim and Tom were unable to use their yard for entertaining and host large gatherings, as they'd always dreamed. The envisioned a space with multiple uses with areas to cook, eat, and relax, but the perpetual moisture kept them from creating one.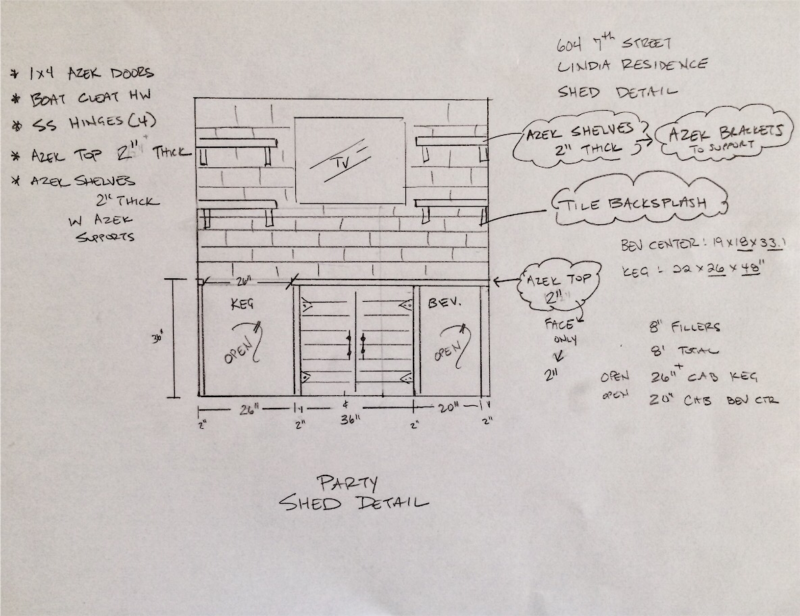 Solution: I treated the outdoor area as I would any indoor open floor plan. Using furniture, rugs, and other structures, I created different zones or rooms. A large, freestanding brick fireplace gave the 'living room' a focal point – perfect for cool summer nights (I chose brick for its ability to stand up to water). I used an outdoor area rug to anchor the space, and then added weather-proof furniture and a box to store firewood. To make the dining area feel like a room, I covered it with a pergola strung with lights and candleholders to give it the effect of a ceiling. The shed was also in this space, and featured a service bar, refrigerator, kegerator, and a TV. We situated the grill right between these two 'rooms' for easy food access from anywhere in the yard.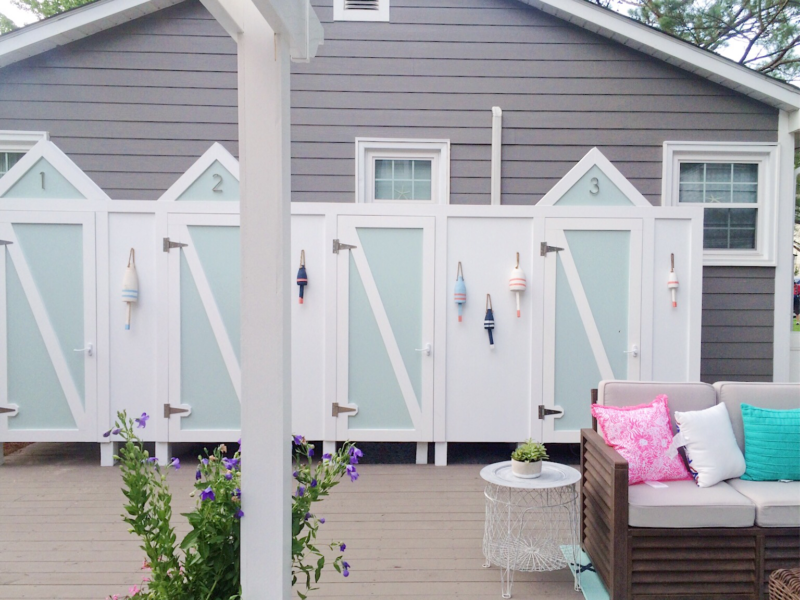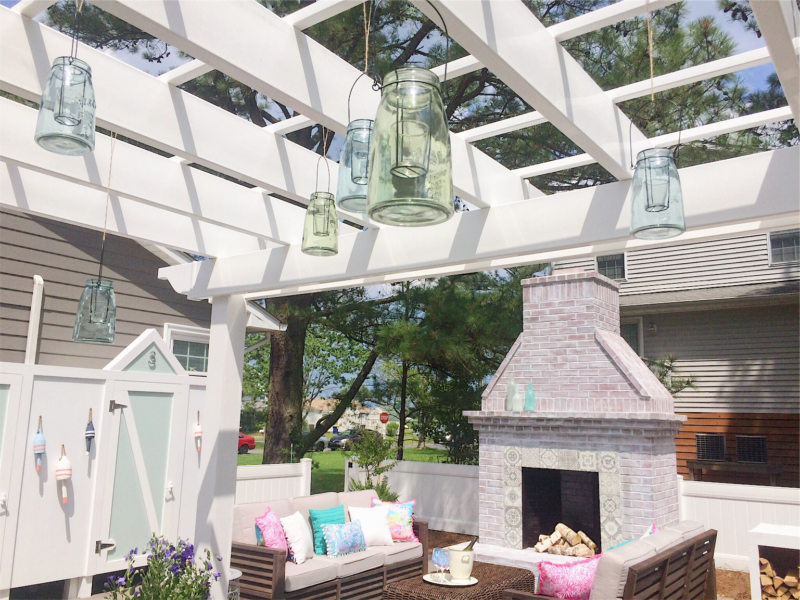 From the first moment I walked into Kim and Tom's backyard, I knew I wanted to create something that felt like beach living away from the beach. So I drew my inspiration from both the boardwalk and beach cabanas, both of which are synonymous with coastal living. The boardwalk-style decking and the cabana-inspired stalls are the most obvious nods to my muse. But design is all about the details: a blue and white nautical stripe rug beneath the dining table; a color palette of watery blues and aquas with tropical-hued accents; and string lights and mason jars strung from the pergola that conjure memories of boardwalk nights beneath a starry summer sky. With a little ingenuity and creative problem-solving, I was able to give Kim and Tom an inviting outdoor space with all the comforts of indoor living.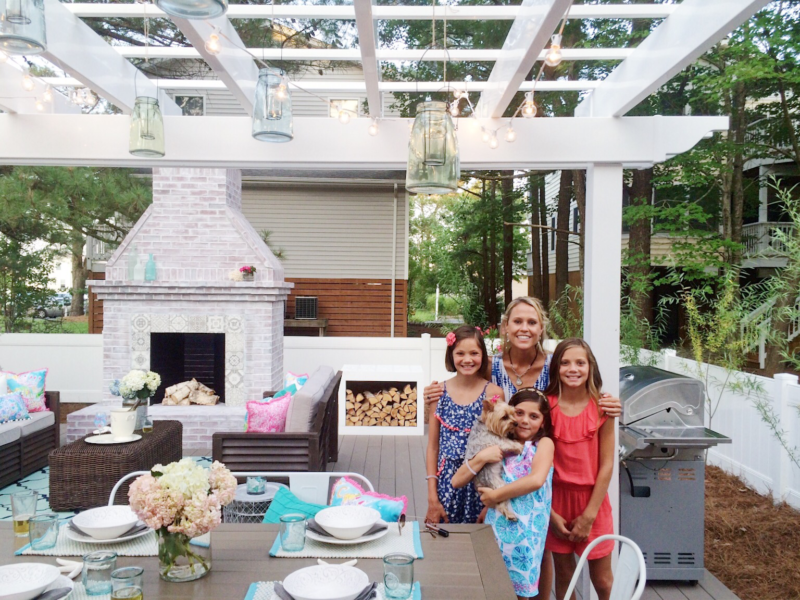 Hurry up, summer!

P.S. Check out more episode recaps here: Episode 1, Episode 2, and Episode 3.