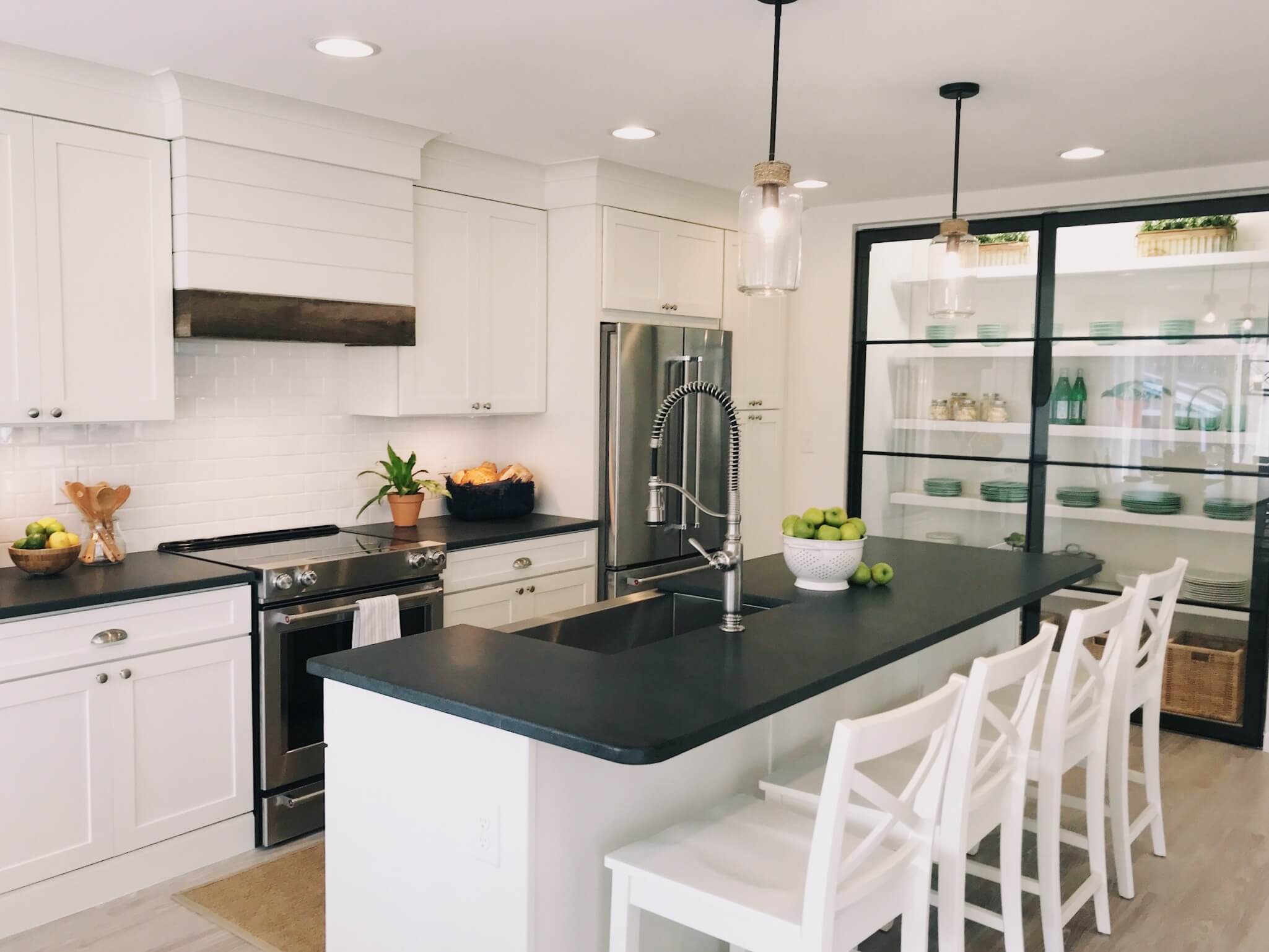 Season 2: Episode 8
Let the Games Begin
Bethany Beach holds a lot of wonderful memories for the Morgan family. They have owned a house in Bethany for more than 20 years, and they gather all three generations there for vacation.
The location of the home is excellent – a block from the beach, and right off the main street with shops and restaurants – but the place hasn't been updated in two decades.
There are now 12 members of the Morgan clan who stay in the house, but the communal areas couldn't fit them all comfortably. The kids would end up lounging in the living room, with the adults out on the screened-in porch. That's no way to spend time together! I came up with a plan to transform their awkward home into an ideal place for a family reunion.
Exterior
Problem: The house had good bones but needed some serious spiffing up. The exterior paint was faded and drab – definitely not the first impression we wanted to make.
Solution: A new white coat of paint worked wonders on this house! It made the years melt away, giving it a fresh, up-to-date look.
Porch
Problem: For a roomy, semi-outdoor space, this screened-in porch felt cluttered and dark. You had to dodge clunky pieces of furniture to enter the house, and it didn't have the airy ambiance the family had in mind.
Solution: I brightened up the porch by painting the decking a neutral color that complements the house's new exterior. And I simplified the furnishings to make the space seem much bigger than it did before. I replaced the random assortment of plastic tables and chairs with a sleek wood table and benching. You can still seat a lot of people, but there is a lot more room to walk around.
Living Room & Dining Room
Problem: This combined space didn't serve the family's needs very well. The dining table was too small to fit everyone, and the living room area didn't offer much for the younger members of the family to do besides fight over the remote control.
Solution: My goal was to design a room where the whole family could hang out together. I reconfigured the layout of the living room area so it was more social, and I updated the furniture to convey a rustic-chic vibe.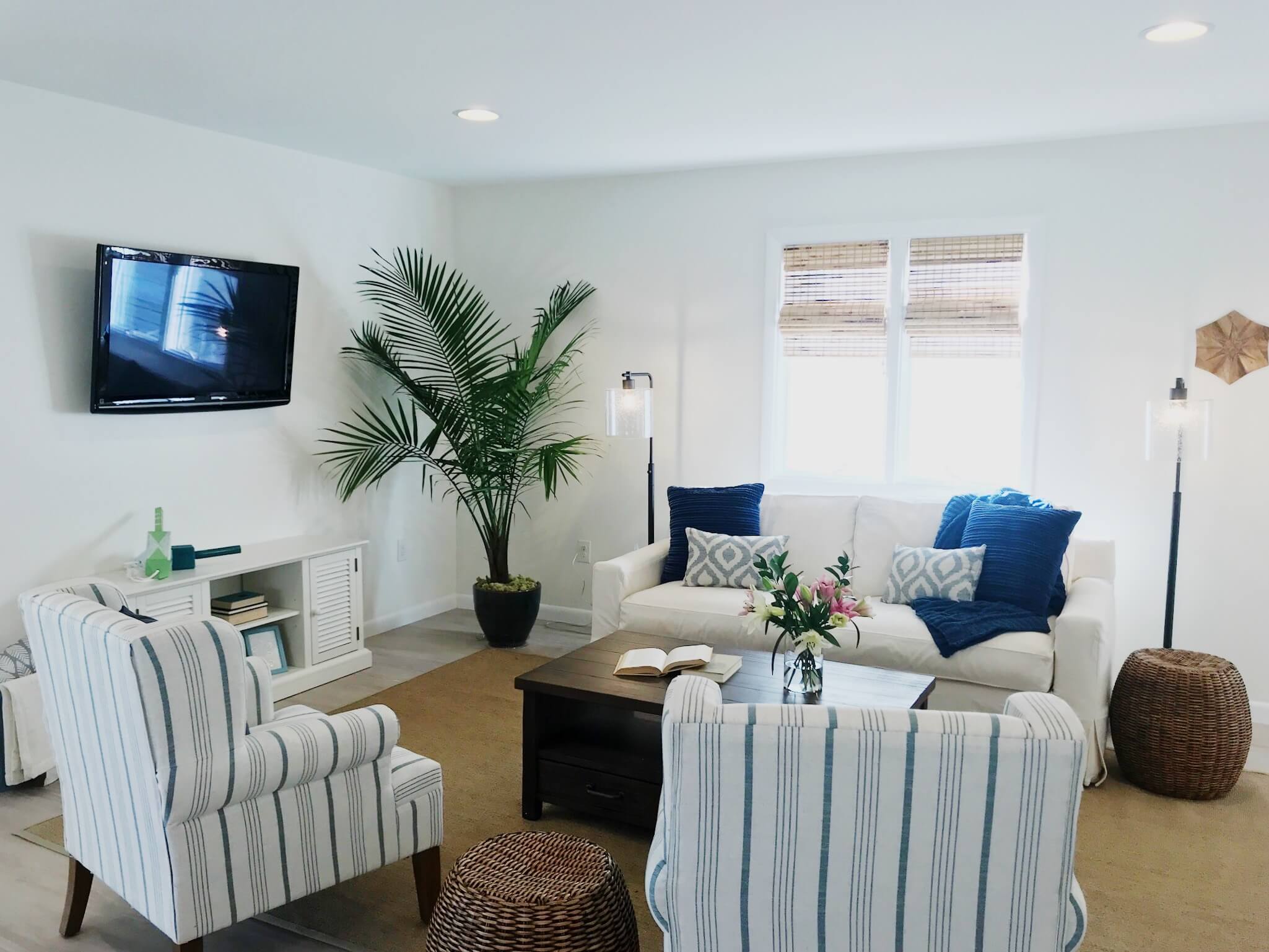 I turned the old dining area into a game room that offers a little something for everyone. With a bit of primer and paint, I repurposed the dining table into a ping-pong table ready to go for rainy day tournaments. Each family member even has a personalized ping-pong paddle hanging on the wall, right above a hip new corner bar with metal stools. The final touch was a custom window seat that opens up to store board games. Now every member of the family can find a perfect nook to settle into, to enjoy a game, a chat or a glass of wine.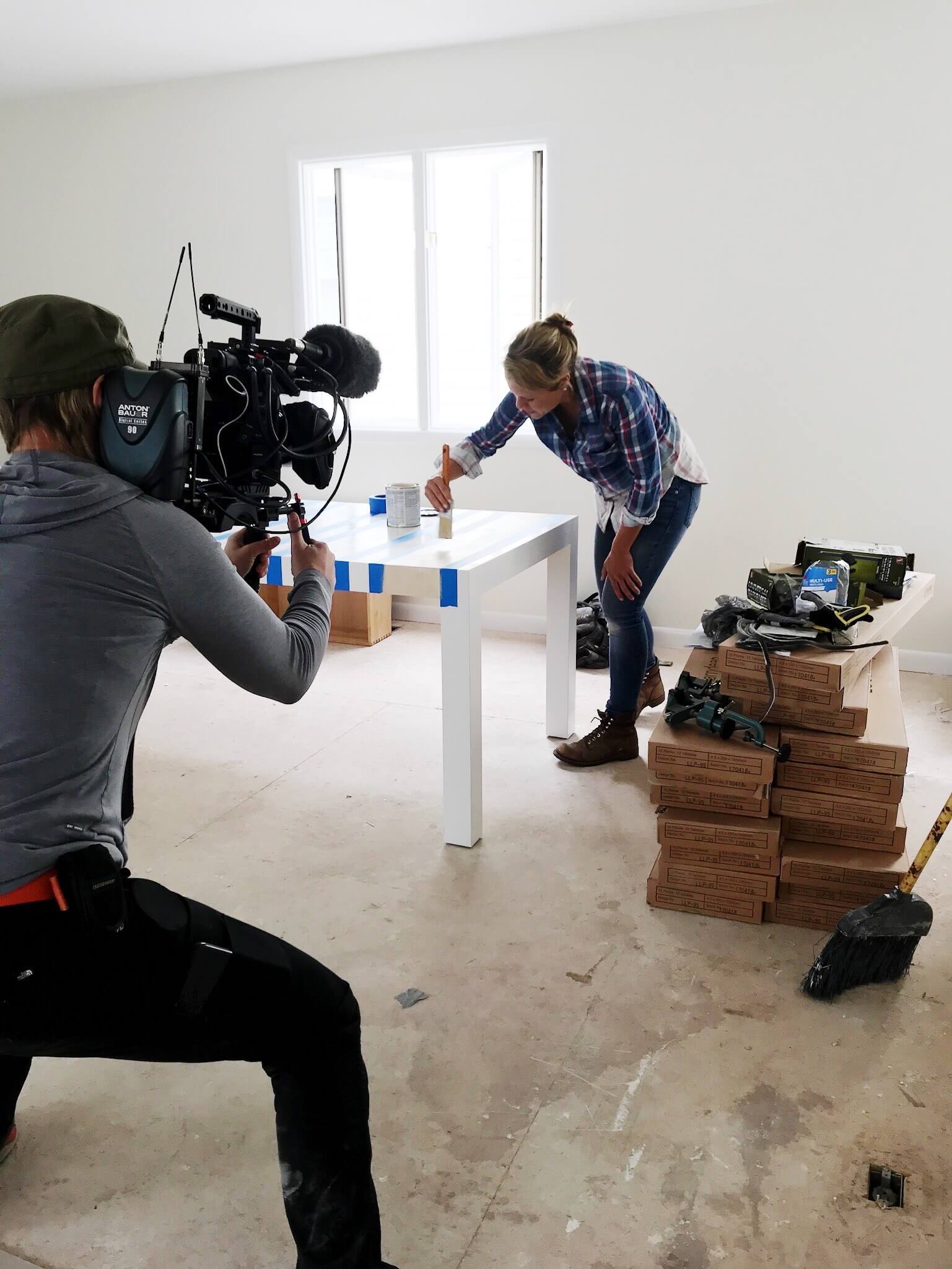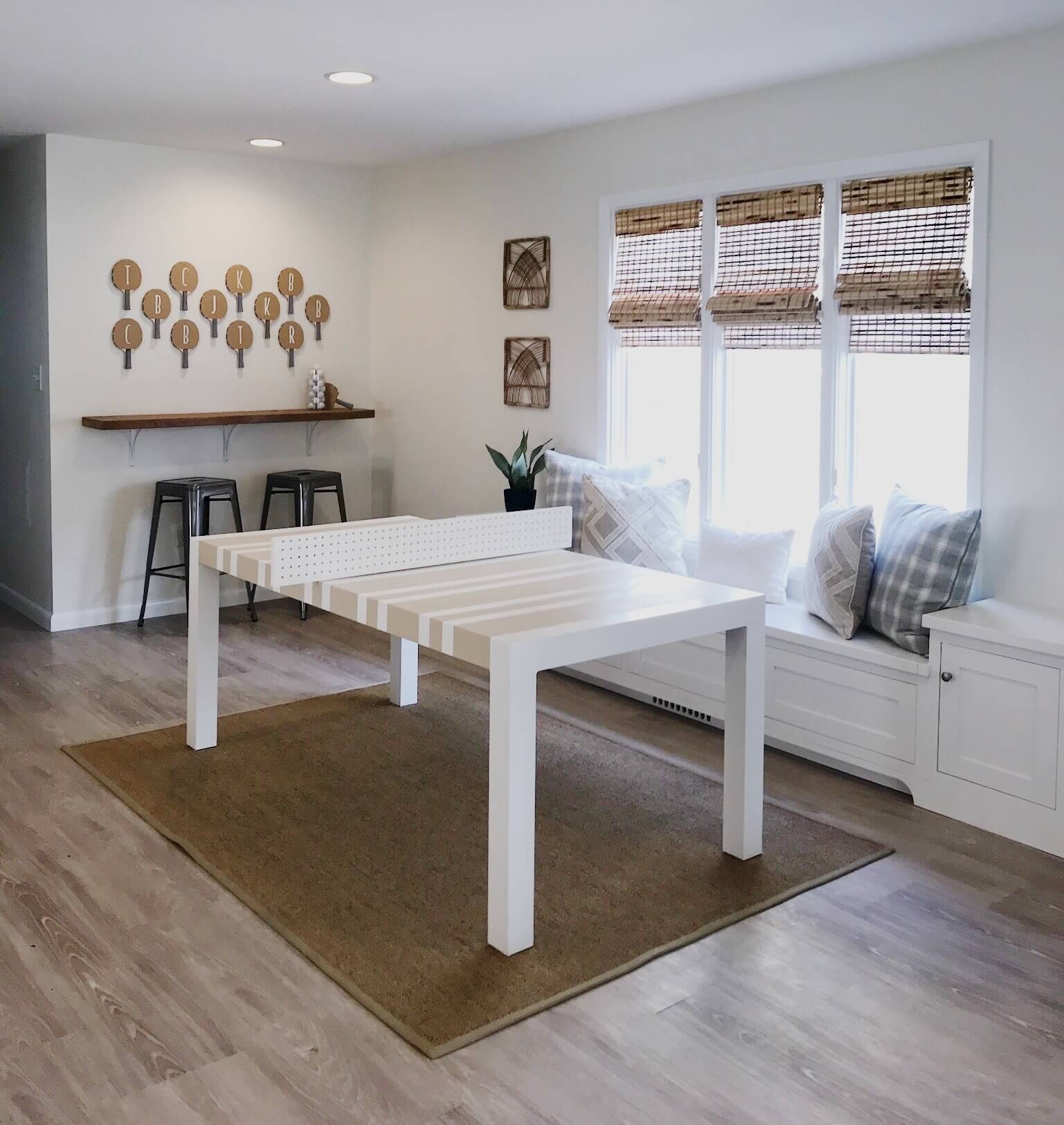 Kitchen
Problem: Preparing meals for 12 people is a big job, and this kitchen was not up to the task. Its cramped floor plan made it impossible for the whole family to cook, eat and socialize together. The lack of natural light and mauve cabinets added to its dim and outdated appearance.
Solution: I am so thrilled with how this kitchen turned out. It has to be the most dramatic before and after of the entire season!
The original kitchen had a wall that separated it from the sunroom, and it blocked all the light coming in from the windows. I decided to knock down that wall to create a huge open kitchen and a new dining area. The tricky part was that this was a load-bearing wall, holding up the second floor of the house. We had to reinforce the ceiling with support beams to redistribute the weight before we could safely demolish the wall. Once that was done, it was amazing to see how bright and open the new space looked.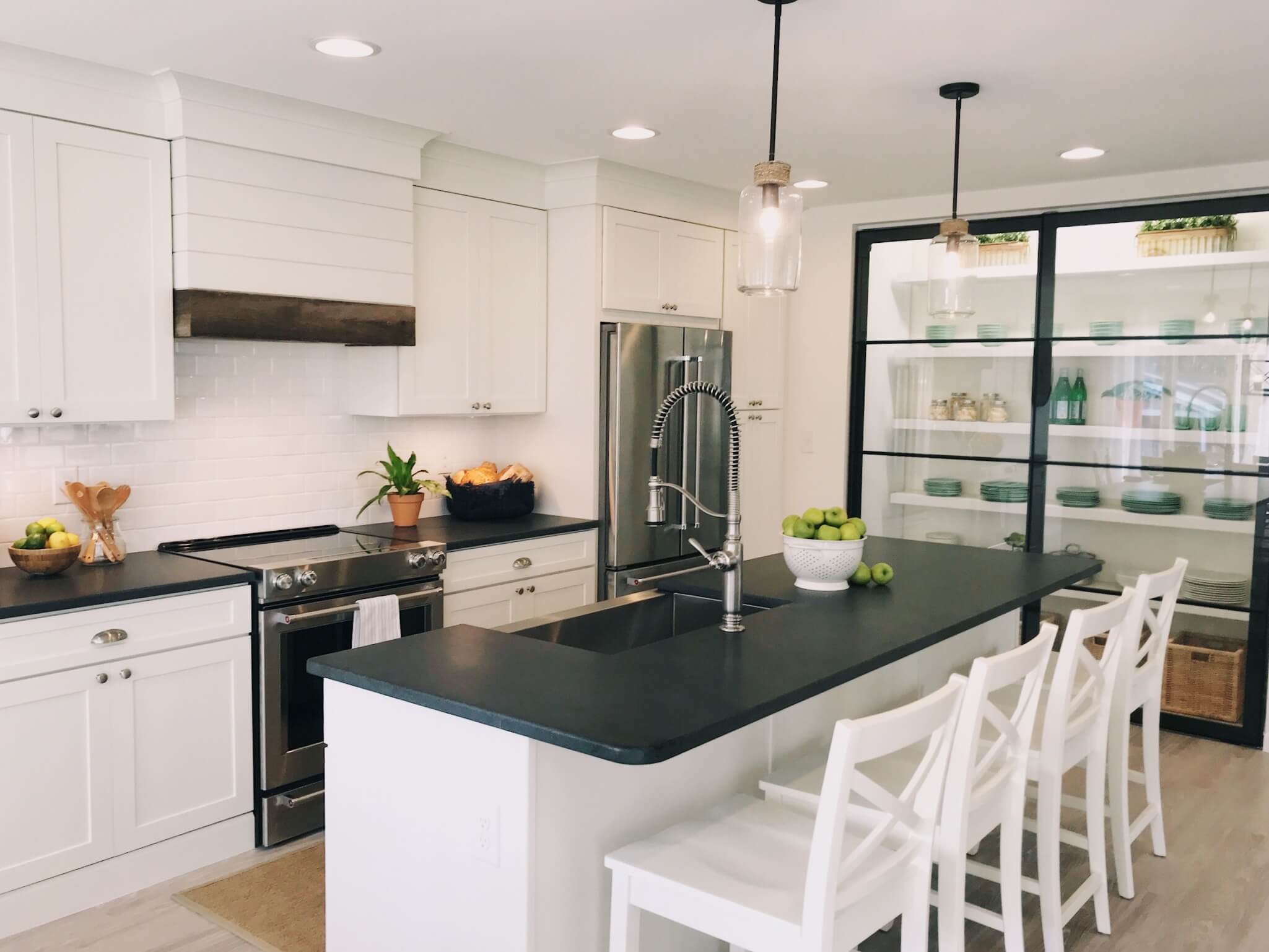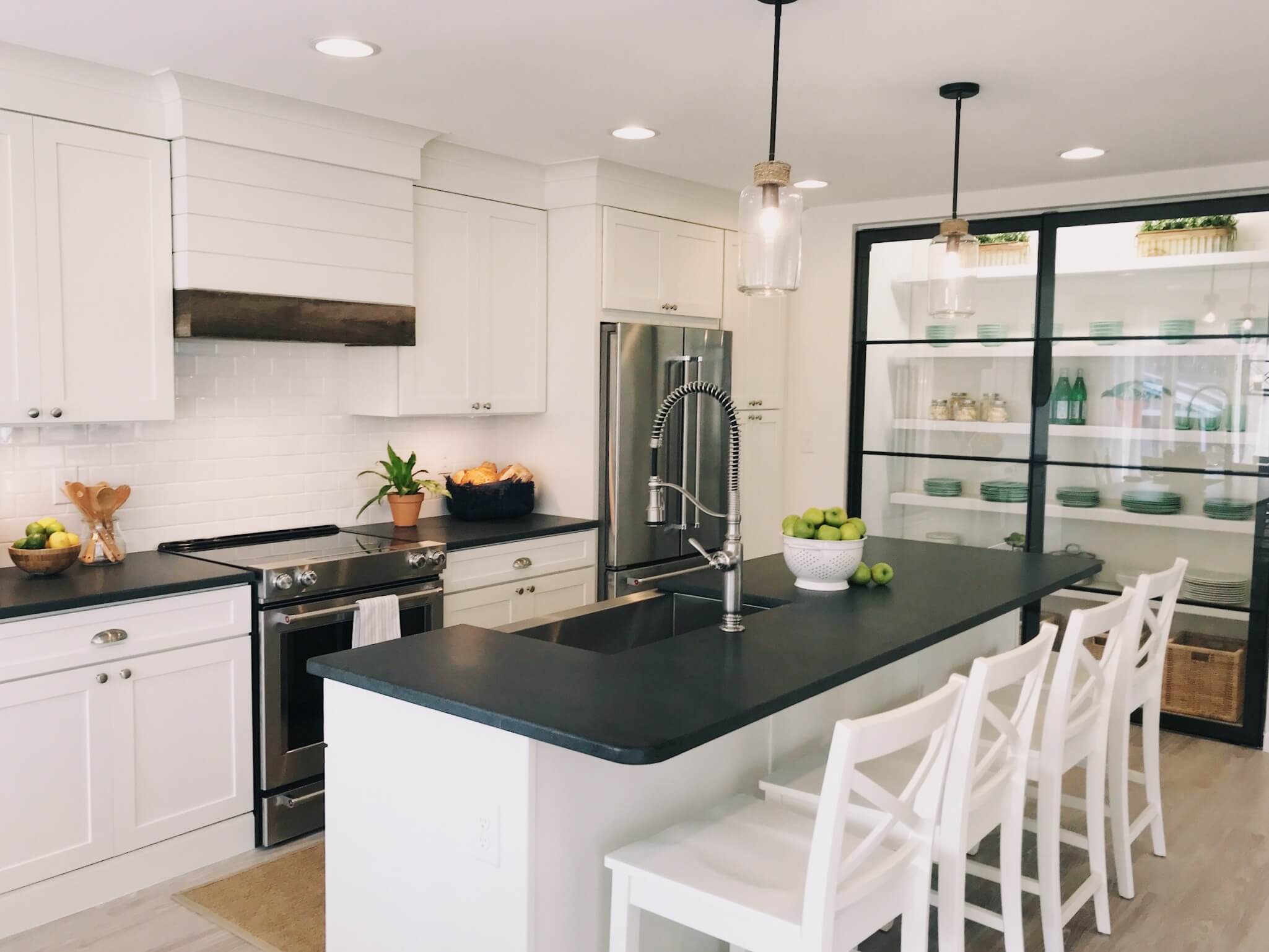 I reoriented the layout to make the space better for foot traffic, adding a larger island (with a big sink for all those dishes!), and a custom pantry with sliding glass doors. I also installed gorgeous new cabinets, flooring and appliances to complete the polished, modern aesthetic.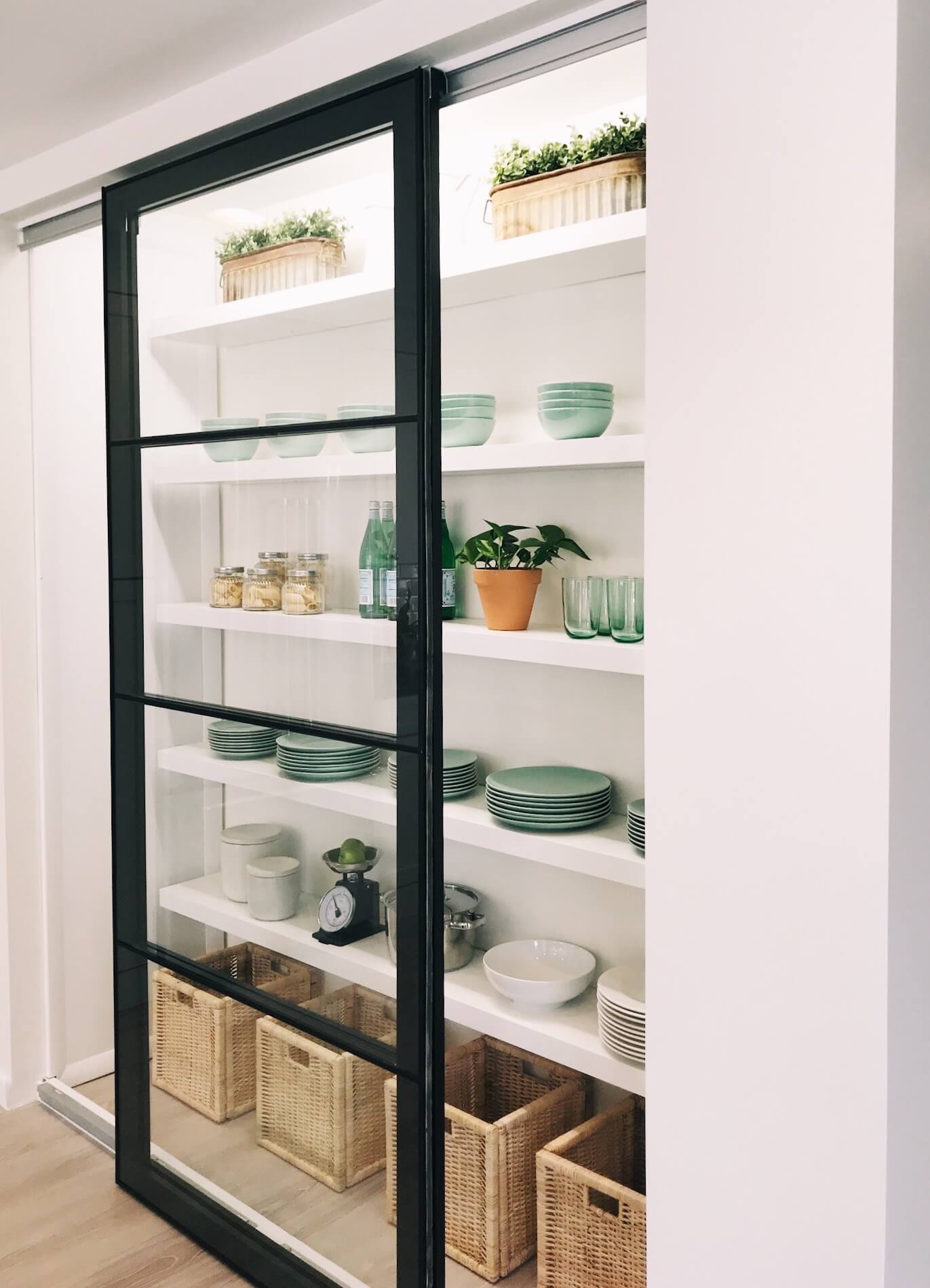 Where the sunroom used to be, I built out a new dining area with a beautiful centerpiece: a farmhouse table that seats 12! Finally, they can all enjoy a delicious meal at one table.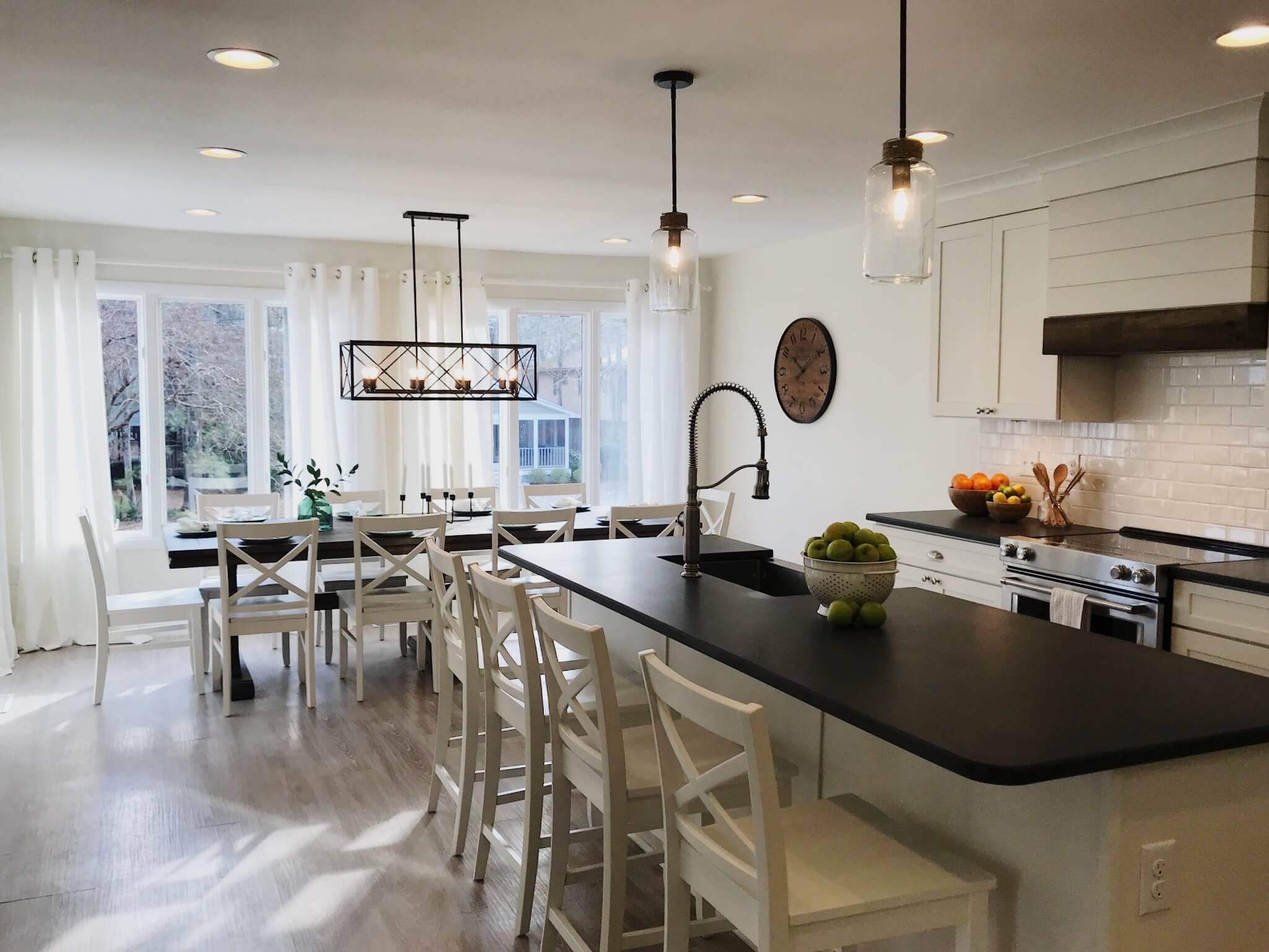 Bathroom
Problem: It was time to refresh this hall bathroom and bring it into this century (especially those purple countertops!). Luckily, it had some good square footage to work with; I just needed to take full advantage of it.
Solution: To make the bathroom more functional for a large family, I removed the ancient single sink, and replaced it with a custom double vanity built out of sturdy hemlock. This wood has a rustic, organic appearance that is perfect for a beach house. I also set the bathtub with a contemporary tile, and installed new flooring, lighting and fixtures.
Finally, I took two frameless round mirrors and used some DIY magic to make them unique and eye-catching. I wrapped a length of jute rope around the perimeter of each mirror, securing it with a hot glue gun – and voilà: beachy, beautiful and affordable decorations.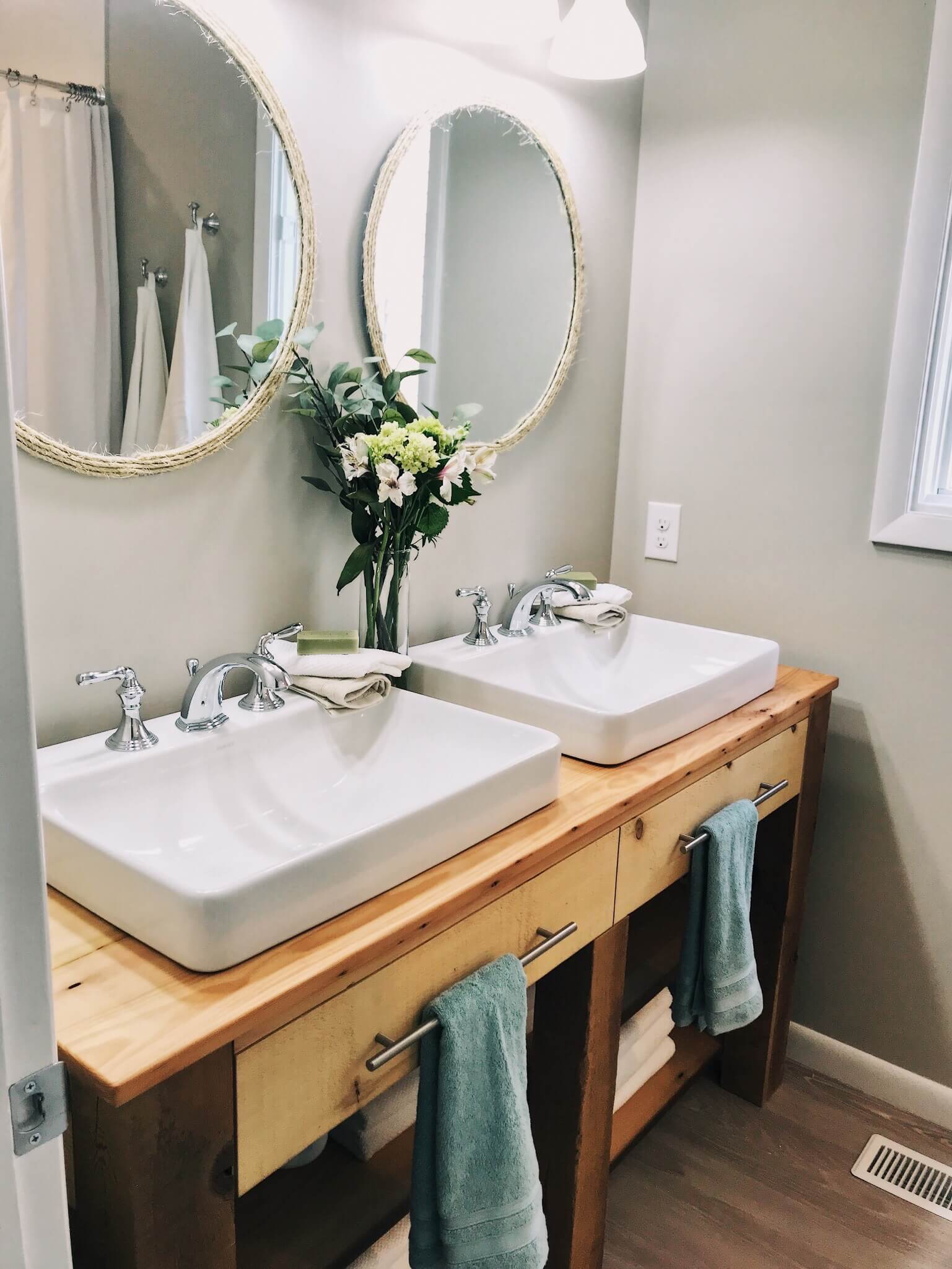 The Morgans love to spend family time at the beach, and now their home offers all the space they need to relax, play, dine and entertain together!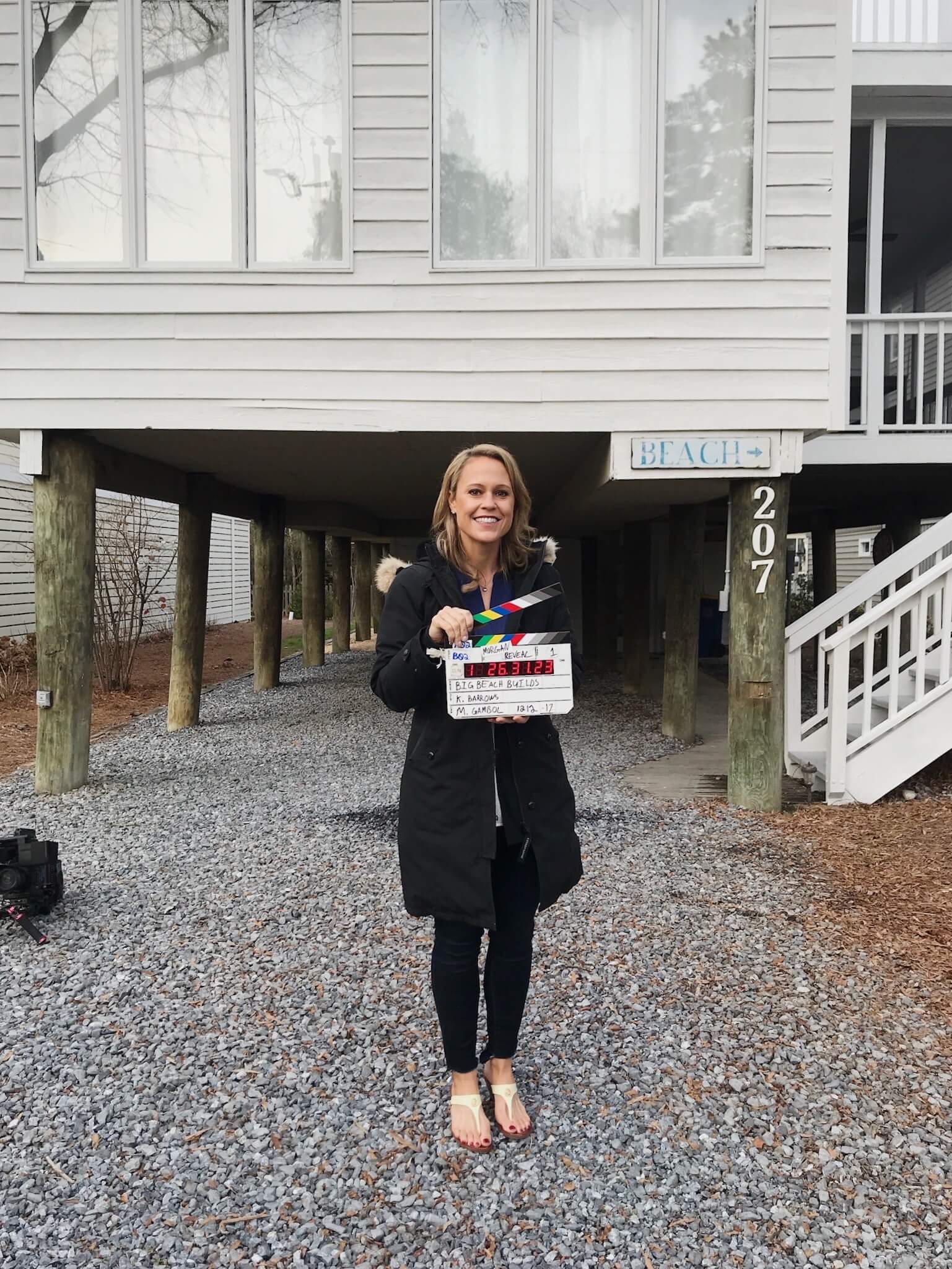 Thanks for all of the support this season!

Learn more about the behind-the-scenes secrets on all my episode recaps. And tune in for two brand new episodes of #BigBeachBuilds every Monday night at 9/8c on DIY Network.