My Story
"The future isn't something you just dream about; it's something you plan and then build, brick by brick."

– Marnie Oursler
When I was in 6th grade, I wanted to play soccer. It didn't matter that there was no girls soccer team. I tried out for the boys team – and made it.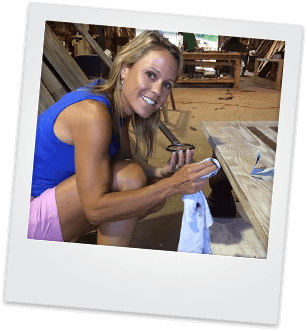 I've never been cowed by rules, regulations, or boys for that matter, and have never done quite what was expected of me – which has served me well in the business I'm in, particularly because I'm usually the only woman on the premises. If it didn't bug me to play soccer with the boys, it sure wasn't going to bother me to do business with them either, and as the only of my girlfriends with a collection of hard hats, I should know.
I was born in Washington, DC, and grew up in Clinton, Maryland, and lived in Fairfax, Virginia. My dad was a builder, and I followed him around a lot, picking up trash, sweeping out houses, organizing lumber. I got to know construction from the ground up, which is the best way to learn it.
After I graduated college, I got paid $11/hour as a real estate assistant, where I got to visit the kind of houses I never knew existed – gorgeous, sunlit summer homes that made my jaw drop. I decided I needed one of those. Bad. I would do whatever it took.
So for two solid years, I worked odd jobs and ate peanut butter sandwiches (jelly was a luxury I couldn't afford), saved every penny, and then stayed up late to study the market trends, the data, waiting for my chance to buy into the market.
And I found it: A tiny, tired looking bungalow that resembled a teepee, and inside, brown paneling, harvest gold appliances, slanted walls, green shag carpet. I bought it for $240,000. It was a total fixer-upper, and I maxed out every card to buy it and rebuild it myself. My dad said, "You've made a big mistake." I told him I'd prove him wrong.
Nine months later, I sold that house for $350,000.
I reinvested that money right away, in another lot. This was it. I was addicted.
The birth and early struggle of Marnie Custom Homes
I launched my custom home building business in 2007… which also happened to be the year of the worst housing crash in U.S. history.
Just my luck! I couldn't afford to hire many workers, so I did a lot of the building myself. My parents thought I was nuts. And despite my hard work, I was quite often doubted, disregarded, overlooked.
Let's face it: I was a woman in her 20s, built like a ballerina in a business completely dominated by dudes. I can't tell you the number of times people approached me on job sites to ask me, "Where's your dad, sweetheart?" and "Are you the decorator?" So I worked really hard to create meticulous plans when bidding for new business. And my lowest point came when I found out prospects were taking my plans to competing builders instead. I almost gave up.
If no one would accept my bids for business, I was going to have to start bidding on myself. Which is exactly what I did.
The day everything changed.
So here's what I did: I built a new home – but this time, I designed it myself, too, instead of using an architect's design. It was stunning: It had a custom oversized front door, wide plank wood flooring, impeccable interior trim details, 8′ solid wood doors, cathedral ceilings with exposed beams, a sea glass palette.
When you walked in the door, the ocean was the first thing you saw, and an inverted floor plan let you view it from the kitchen as well. It was bright, airy, fresh, with a big front porch and a rooftop deck.
When the house was finished, I invited the entire neighborhood over for a big summer blowout. Four hundred showed—and that's where everything changed.
After that day, word spread like wildfire. I got referral after referral. I didn't even have to submit bids anymore; business was coming to me. And the best part? They didn't just want me to build the home; they wanted me to design it, too.
Here's what else set me apart from the pack:
I earned my MBA from Duke—I certainly didn't have to, for the work I was doing, but it helped, particularly with the level of clientele I was serving.
I started using energy-efficient practices back when it was still cutting edge.
In fact, I built the first LEED-certified home in Delaware. I began using reclaimed and recycled material to add character and make my clients' homes unique.
I built one of the first 95 percent American-made homes in the country, using equipment and materials sourced domestically.
To date, I have over 100 homes under my belt and a thriving business, and the respect of my (mostly male) colleagues. I've won numerous homebuilding and entrepreneurial awards. I could not be more thrilled.
My favorite home of all? The one I'm about to build. Yours could be next!